Medallic Sculpture Studio at the National Academy of Art, Sofia
Medallic Sculpture is a subject of the curriculum of the Metal Department at the National Academy of Art in Sofia. The studies have been subdivided into four parts: basic, jewelry, medallic art, and metal forms intended for the natural and architectural environment. These are taught in twelve lessons a week for one academic year. Students work in the medal-making studio in their third year when they get acquainted with the history of coins and medals and make a copy of a miniature relief, which they use later, either in its entirety or in part, to make a medal that depicts an imaginary event. Gradually the students learn to make various kinds of relief. They mould, carve, engrave, cast, chisel and apply patina; that is, they get to know the whole process involved in the realisation of a project. Afterwards they design coins and finally they experiment in the field of the free sculptural medallic form. Additional lectures in lettering as well as in visual symbolism and heraldry are given, and in the fourth year the students learn about architecture and the history of the art metal. The purpose of this course is to acquaint the students who study metalwork with medal making, not only for its own sake as a branch of sculpture, but also as a way of providing them with knowledge and skills which will be useful in other aspects of metalwork. The National Academy of Arts in Sofia offers bachelor's, master's and doctorate degree programs.
The Medallic Sculpture Studio has existed since 1996. Teachers and students take part in various international projects. One of them is the BAMS Student Medal Project at which in 1999 Mirena Zlateva won the First Grand Prize and Adriana Koravska won the Second Prize. The following year Sylvia Borissova won the Best Guest Prize. Works of Mirena Zlateva, Adriana Koravska, Sylvia Borissova and Draga Draganova were purchased by the British Museum. The students also take part in the FIDEM exhibitions and in other medal exhibitions both in Bulgaria and abroad.
Professor Bogomil Nikolov
Head of the Metal Department
at the National Academy of Art, Sofia
e-mail: bnikolov@netel.bg

home page: http://msss.artmedal.net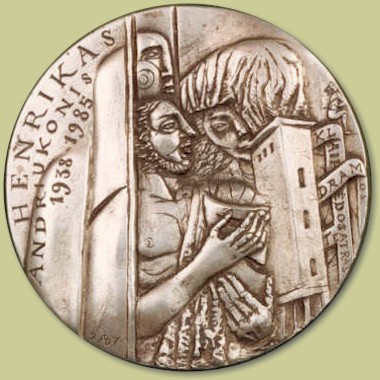 To the Memory of an Artist
Algirdas Bosas